Our selection of the top winter hats
As the cold weather settles in, you'll want to retire your go-to baseball caps for something warmer. While we all reach for the cheapest beanie, there are some benefits to choosing a winter hat. While there are many things to consider when buying a winter hat for your head, we will focus on three key factors: warmth, comfort, breathability. Keep in mind that wool and polyester fleeces are extremely warm. Some winter hats have a Thermo conductive coating to retain heat. Most people love something that covers their ears. They are particularly sensitive to cold. Comfort is also important. No matter what hat you choose, it is important that it fits comfortably on your head.
Best Overall: Minus33 Merino Wool Ridge Cuff Beanie
Minus33 Merino Wool Ridge Cuff Beanie hat is stylish and comfortable. Merino wool is extremely soft and moisture-wicking. It's also odor-resistant and insulating. Even when you start to sweat while participating in winter sports or a brisk walk, you'll be able to rely on this winter hat to keep you warm, dry, and fresh. You can even wear it in the snow! The wool can absorb as much as 30% of its weight in moisture. You won't have to worry about fitting because the lightweight material is elastic and has a circumference of 17-25 inches. The best part? It can be thrown in the washer or dryer whenever you need to clean it. There are 11 colors in the collection.
Runner-Up, Best Overall: Mountain Hardwear Perignon Hat
Mountain Hardware's Perignon Hat, a hard-working hat that keeps you warm and dry in winter's colder weather. The Perignon winter hat is a great choice. It completely covers your ears and features an inner fleece-lined band to keep you warm. The Perignon also covers the back of the neck, which can be particularly vulnerable to cold. Mountain Hardwear's Windbloc technology makes the beanie breathable and resists biting winds. It is made of 100 percent polyester Toasty Tweed Fleece. It can also be stretched to fit different head sizes. It weighs in at 4 ounces. This is a little more than other options on the market that often weigh just one to two ounces.
Best Budget: Carhartt Acrylic Watch Hat
This popular, beloved beanie has received thousands of positive reviews. It's warm and comfortable and costs half of the price of comparable winter hats on the market. The hat is made from stretchable acrylic rib-knit fabric that can be adjusted to fit any head. It also comes in a classic, timeless style that goes well with every outfit. Carhartt has been manufacturing these hats in America since 1987. It guarantees durability in every construction. You can also choose from a range of colors such as green, black and orange, red, gold or brown, and many more. This unisex beanie can also be used by women, even though it is intended for men.
Best with Pom Pom: Smartwool Ski Town Hat
Smartwool Ski Town Hats with Pom-poms can be a fun and creative way to spice up a traditional cable-knit beanie. The acrylic and wool blend of this hat will keep you warm during snowy and windy days. While the pom-pom is a fashion statement, it also makes a stylish fashion statement. This winter hat can be machine washed and is available in charcoal or white.
Best Trapper Hat: L.L. Bean Ultrawarm Bomber Hat
This stylish L.L. Bean trapper hat gives a fresh new look to the iconic hat. It was worn first by Norwegian Arctic explorers, fighter pilots, and warplanes during World War I. Bean. This winter hat, like traditional trapper hats, is designed to keep you warm with faux-fur trim and ear flaps. The winter hat also comes with a waterproof, quilted outer liner. You can choose from two sizes.
Outdoor Research Transcendent Beanie: Best Down Hat
There are down jackets, so why not down caps? The Transcendent Beanie by Outdoor Research is part of the same product line that the Transcendent jacket. It has an ultralight, water-resistant, ripstop shell. It is made from responsibly sourced goose down with 650-fill power. The beanie helps you retain heat during winter treks, and when the temperature gets warm, all you need to do is stuff it into its hidden pocket or compress it. It weighs just an ounce so it won't feel heavy. Be aware that some reviewers mentioned size issues. You can play safe and choose a large/larger size over a small/medium.
Best Hat for Running: Lululemon Run For It All Beanie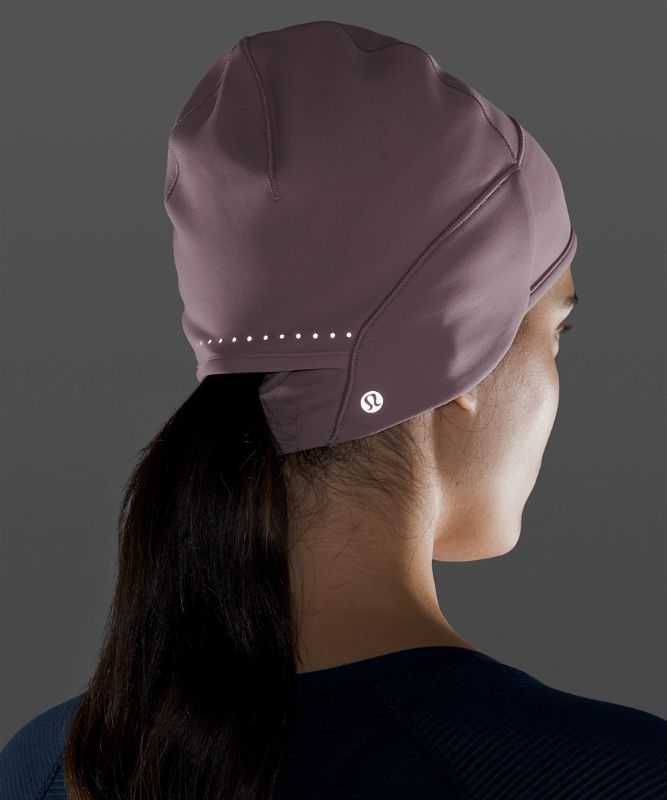 A hat that helps conserve body heat is essential if you are going out in cold conditions. Lululemon Run For It All Beanie's Brushed Fleece fabric is made with runners in mind. This fabric is water-repellent, which can be useful for light drizzles and running long distances. The hat covers your ears to keep that sensitive area of your head warm, while the brand also has a patented Set-My-Ponytail-Free(TM) opening, where you can toss your hair through the opening and still keep the hat secure against your head. Do you have enough hair? You don't have to worry about it, as the back opening is discrete and reflective detailing will keep you safe from the sun.
Final Verdict
The Lululemon Run for It All Beanie is casual and can also be worn for running. You can use the subtle back opening to allow you to slip your hair through if you have it. You will also be warm in winter with the fleece fabric inside.
How to Choose a Winter Hat
What type of material should I choose?
You should look for natural fibers such as wool and cotton, as well as hats lined with faux fur or fleece.
Which type of fit do you prefer?
High-quality, snug-fitting hats can protect your ears and head from the effects of high winds and low temperatures. The loss of head heat is the main reason why you are feel cold.
What price ranges are available?
A quality hat made from high-quality natural fibers such as wool and cotton will cost you between $30-40. They are a great investment that will last many years.
What should I do to keep frostbite at bay?
To cover your ears, and most of your forehead, make sure your winter hat is at the lowest point on your head. This will prevent cold air from getting into the gaps created by hats that are too loose.